Jun 20 2015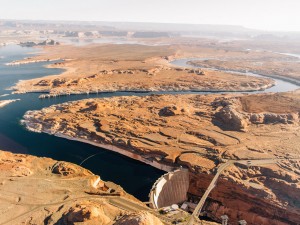 For those who are interested in the ever-diminishing Colorado River, ProPublica has put together a series of articles dealing with the river titled "Killing the Colorado".
·

        

Explore the River
·

        

What You Need to Know
·

        

Holy Crop
·

        

The Water Witch
·

        

Interactive: Watch Las Vegas Grow
·

        

End of the Miracle Machines
·

        

Photos: A wonder in Decline
·

        

And coming soon Less than Zero
The entire West is in drought, some of it for over fifteen years. The end game is not a pretty sight unless the people charged with ensuring a reliable water supply for thirty million people act correctly and soon.
The idea of irrigating the West was the driver, but no one had any idea how the populations of Arizona, Nevada and Southern California would explode with cheap water and power. And now we are seeing the consequences.
I encourage you to read these articles to gain an understanding of why it is so important for San Diego to develop water sources that are not dependent upon the Colorado River system. Importing our water was a good idea, but now we must work toward water independence to assure the San Diego Region will remain economically viable.
 Milt Burgess
By Milt Burgess • Blog • 0 • Tags: augmentation, California Aqueduct, conservation, Direct, dry centuries, El Nino, La Nina, MWD, precipitation, purification, purple pipe, rainfall, residential water user, SDCWA, State Water Project, water rate hike, water Storage, wet centuries